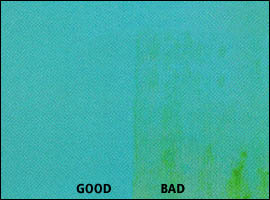 Loss of paint due to poor adhesion. Where there is a primer and top coat, or multiple coats of paint, peeling may involve some or all coats.
Possible Causes:
Oil-based paint or vinyl acrylic latex paint was applied to new masonry that has not cured for a full year. Fresh masonry is likely to contain lime which is very alkaline. Until the lime has a chance to react with carbon dioxide from the air, the alkalinity of the masonry remains so high that it can attack the integrity of the paint film.
Solution:
Allow masonry surfaces to cure for at least 30 days, and ideally for a full year, before painting. If this is not possible, the painter should apply a quality, alkali-resistance sealer or latex primer, followed by a top quality 100 percent acrylic latex exterior paint. The acrylic binder in these paints resists alkali attack.