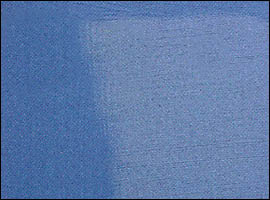 An effect of non-uniform colour that can appear when a wall is painted with a roller, but is brushed at the corners. The brushed areas generally appear darker, resembling the "frame" of a "picture." Also, sprayed areas may be darker than neighbouring sections that are brushed or rolled. Picture framing can also refer to sheen effects.
Possible Causes:
Usually a hiding (coverage) effect. Brushing will generally result in lower spread rates than rolling, producing a thicker film and more hiding.

Adding colourant to a non-tintable paint or using the wrong type or level of colourant, resulting in variation in colour, depending on method of application.
Solution:
Make sure that spread rates with brushes and rollers are similar. Don't cut in the entire room before roller coating. Work in smaller sections of the room to maintain a "wet edge." With tinted paints, be sure the correct colourant-base combinations are used. Factory colours, as well as in-store tints, should be thoroughly shaken at time of sale.